The EFC Tune-UP™ Answers College Affordability
Two Big College Mistakes That Many Families Make
# 1 Families are Misled by Their Own Assumptions! 
Eamples of Faulty Assumptions
"I won't qualify for financial aid so why do the FAFSA?" [US Department Education indicates less than 55% of  graduating seniors complete the FAFSA]
# 2 Families tend to buy (choose a school) before they examine affordability and how they are going to pay the college bill.
Examples that Might Miss Affordability
"That's Emily's dream school she's wanted to go there since she was 14 years old."
 EFC Guidance First Step in College Affordability Determinations
What the Course Covers…You will Learn
Week 1 – Qualify For As Much Financial Aid As Possible 
How  to Determine if you Qualify for Financial Aid?
What are the Calculation Steps (

one page summary provided PDF Sample Left

)?
What is Your Expected Family Contribution (EFC) Number (We Project  it)?
What are Strategies within the Rules that lower your EFC and "

Maximize Financial Aid Opportunit

y"?
Week 2 – How  to Measure College Affordability
Why You Must Examine a School's Average Freshman Profile When you Build Your College List?
How to use  Student Positioning which increases Chances for Admissions and Financial Awards?
How to Leverage Financial Aid Eligibility Reporting  and Who are the 100% Need-Met Schools (Without Loans)?
How High Income Families can Qualify for Merit Awards (free money)?
Below is a graphical representation of before/after EFC strategy implementation from an actual client . He entered his financial data into our online calculator then uploaded the information through our encrypted  (secure) process. We then review the results inside our financial aid software looking at possible strategies that can lower his EFC number. In this case the client qualifies  for a significant increase  in financial aid.

How the EFC Tune-UP™ and College Affordability Course Works
When You enroll, You will be directed to an instruction page to start the course.
The first step is to project your Expected Family Contribution number, you enter your financial information into our software, hit "submit" (information secure through encryption).
We will send you a report (sample  PDF above top) with possible recommendations to lower EFC.
The instruction videos with PDF's start being released,  week 1 July 7; and week 2 July 14
SUPPORT: email and telephone, questions call Jim Kuhner 817-600-0576
College Affordability Reporting – Net Price Calculators
Are they a good idea?
Yes, because they motivate families to consider the college affordability issue.
No, because they are not always accurate.
 Our Software Financial Aid Eligibility Report Showing "Unmet Need"
Shows financial aid estimates by college based upon their historical financial aid delivery habits.
College Cost Report for 4 years
Compare up to 5 colleges side by side on each page.
We can customize non-educational expenses like transportation for schools that might be out-of-state.
Determine which target schools give out more grant money compared to self help (loans and work study).
Reporting That Provides You With School Specific Information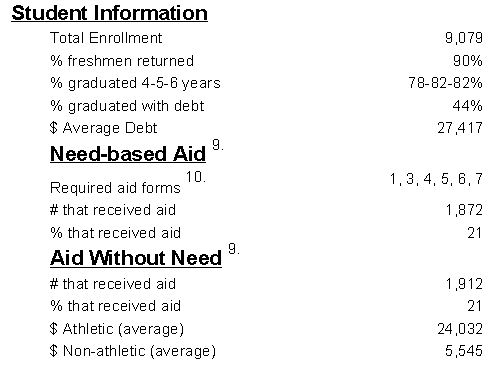 "I Can't Qualify My Family Income is Too High!"
You want to file the school required financial aid forms regardless, some schools require it for certain financial aid awards that don't have to be paid back. And some colleges don't, high income families have a different strategy.
Individual College Critical Evaluation Two Page Summary Reports
Email us the colleges you want to consider. These two page summaries simplify you life with almost everything you need to know about a school on two pages.
This two Page PDF allows you to quickly filter colleges for some of your key decision making metrics.
We use this report with our personal coaching clients to track deadline dates and to complete some of our customized spreadsheets we use to easily compare and rank colleges based upon specific objectives.
Recap – WHAT Does EFC Tune UP™ Do For You and how can it help you?
Identify Your Current Expected Family Contribution - "EFC".
Looks at ways to lower your EFC and help you eliminate financial aid mistakes.
You select colleges and we provide Financial Aid Eligibility information.
We provide for your selected colleges two-page summaries like above.
Many Strategies are time sensitive, longer you wait the less they work.
Is This Going To Be Complicated?
No.  We know the rules and the software does the calculations.
Why Is The EFC Tune-UP™ Not A Good Idea
?
If you do not care.
If it takes too much time. Simple 1-2 Hours We Will Know.
If you do not see any value for your family.
If you can't afford it.
If the cost is too high so you can't afford it, that's a good reason, don't you think?
Here is part of an email a mother sent me that shows such a good reason.
"We did not try on our own to calculate our EFC but we did this online video with company called[name ommitted for privacy] then we "won" a personal call consultation where the rep. showed us via laptop showing at least 2 scenarios of what our EFC would be going with our current financial numbers from 2011 tax returns and then what the EFC would be if we went with them (at a cost of $4200) to lower it with them saying they could lower our EFC by almost $10,00."
Would you spend $4,200 to get a return of $10,000? Sure you would as fast as you could. The problem is that even though you lower your EFC by $10,000 there is no guarantee that will translate into $10,000 of financial aid (remember "loans are usually part of the offer package).
She made a great decision, you see, I'll give you the facts and never promise what a school might decide to award you. That is impossible, and simply a rip-off in my mind. Jim Kuhner – Coach for College
Answer the College Affordability Question?
Personalized Family EFC Financial Aid Reporting
Calculate Your "Financial Gap" by School Find Cash Flow Strategies to Close the Gap?
Coaching Program Saves You Money
For a complimentary discussion, please contact Jim Kuhner Email: jimkuhner@CollegeSelec tionStrategy.com or call direct (817-600-0576).
JimKuhner