The EFC Tune-UP™ Answers College Financial Aid Eligibility and College Affordability Questions
Two Big College Mistakes That Many Families Make
# 1 Families are Misled by Their Own Assumptions!
Example of Faulty Assumptions
"I won't qualify for financial aid so why do the FAFSA?" [US Department Education indicates less than 55% of  graduating seniors complete the FAFSA].
# 2 Missing the "College Twins™" [Selection Process and Budget Affordability] before they select their school.
Example Where Affordability is not considered in college choice
"Selecting a college based upon a faulty selection process, my best friend is going there or I like their football team, etc.
For Parents, Family Financial Aid Eligibility Starts
With Our EFC Tune-UP™ 
Reduce Your EFC – Focus on Generous Colleges

Our  Coaching objective – Parents Achieve Financial  Clarity™

Qualify For As Much Financial Aid As Possible 
How  to Determine if you Qualify for Financial Aid – Project your Expected Family Contribution ("EFC").
You securely upload your financial  information into our financial aid software for evaluation.
We provide a before and after analysis with possible suggestions that can decrease your EFC number.
Financial Aid Eligibility Reports projects financial aid awards by school comparing up to five  schools side-by-side, information based upon data reported by the schools.

Strategy Alert: The comparison data provides an estimated funding gap where by you can compare colleges as you evaluate colleges to consider. The comparison will be relevant even though the projected  EFC number  will  not be the final EFC generated on the Student Aid Report and/or from the CSS Profile for  some private schools.  Remember the FAFSA dictates the federal Title IV Financial Aid awarded regardless of school.
We provide an easy explanation of important EFC terminology and how the moving parts of the calculation affect each other.
Assessable and Non-Assessable Assets and Income including the treatment  of Home Equity/Small Business Interests/Rental Property.
Deductions from Financial Aid Income
Untaxed Income and Benefits (what is tax deductible can add to your financial aid  income)
What Allowances are and how they benefit you
What are strategies within the rules that lower your EFC and "

Maximize Financial Aid Opportunity

"?
To the left are some acronyms in the expected family contribution process, no worries we have you covered with instruction and easy to understand video/reference material.
How to Measure College Affordability – Finding the Generous Schools
How to Leverage Financial Aid Eligibility Reporting, Understanding Percentage Need Met in sorting Schools (explained further below).
How to create Competition among Schools to leverage the Financial Appeal Process (some schools will not match other offers, are they still on your list?).
Why You Must Examine a School's Average Freshman Profile When you Build Your College List.
How to use Student Positioning which helps with Admissions and Financial Awards?
How to increase your chances for Merit Awards (free money)?
Can Certain Strategies Help Your Family
Lower Your EFC Score?
Absolutely. There  are two important considerations when examining how you can reduce your EFC number.
First you must understand the terminology and process in the EFC calculation then how the rules dictate the result.
Second, eliminate mistakes that can result in a higher EFC number than necessary.

Strategy Alert: EFC Tune-UP includes detailed analysis of of how income and assets  are reported that allows you to consider what  strategies within the rules you might consider based upon your family's financial situation. The objectives are simple, make the most informed decisions and eliminate  surprises.
Below is a graphical representation of before/after EFC strategy implementation from an actual client .
You will be provided graphs like below based upon possible strategies you might consider when appropriate.
And remember, even if you implement no strategies to lower your EFC number by eliminating mistakes we are still decreasing your EFC number from what  might  have  happened.
The process, the client entered his financial data into our online calculator then uploaded the information through our encrypted  (secure) process. We then review the results inside our financial aid software looking at possible strategies that can lower his EFC number. If you prefer, we can input the data  for you with a phone call and screen sharing so you can see the input screens.

Our Financial Aid Eligibility Report
Shows Percentage Need Met By School
Shows financial aid estimates by college based upon their historical financial aid delivery habits.
How important is "percentage need met" and conversely "unmet need"  (funding gap or out-of-pocket costs) in the college selection process?
Here is an example of a flag ship east cost state school, out-of-state student with EFC 00000. The school meets 63% of need met, cost-of-attendance out-of-state about $44,000 per year, the family is left with $16,280 (100% – 63% = 37% multiplied by $44,000 = $16,280.
This assumes the student receives the 63% need met which actually did not happen at first.
Remember the Expected Family Contribution of ZERO!
Going through the EFC Tune UP™ would provide this information ahead of  time. It also alerts  the family if they choose (they did  not  go through the course in advance) to attend  this school what a  fair financial aid award would be. They did not receive a fair offer, we filed an appeal and received 65% financial need met including two new grants, but still a significant  funding gap because of the out-of-state tuition plus the 35% of the unmet need or funding gap (100% – 65% total received after appeal = $35%).
Percentage Need Met Includes
Gift Aid and Self Help Aid
Gift Aid as  the names implies does  not have to be  paid back, grants  and scholarships fall into this category.
Self  Help includes student loans and  federal work study.
Percentage Need Met , Gift Aid and Self Aid Percentages, Valuable Information For Several Reasons
Reporting That Provides You
With School Specific Information
The student information below is  also included in the Financial Aid Eligibility report. In controlling family college out-of-pocket costs graduation rate are very important. For this reason our premier coaching program is titled The Guaranteed Graduation™.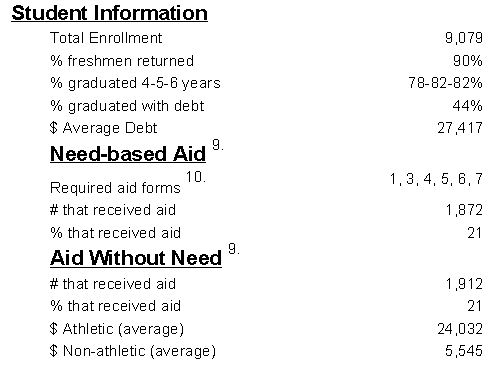 Individual College Research Intelligence
Two Page Summary Reports
Email us the colleges you want to consider. These two page summaries simplify your life with almost everything you need to know about a school on two pages.
This two Page PDF allows you to quickly filter colleges for some of your key decision making metrics. You can easily assemble key data into spreadsheet for comparisons and work in progress, easily see key deadlines for each school.
We use this report with our personal coaching clients to track deadline dates and to complete some of our customized spreadsheets we use to easily compare and rank colleges based upon specific objectives.
Recap – WHAT Does EFC Tune UP™ Do For You
How Can It Help You?
Identify Your Projected Current Expected Family Contribution - "EFC".
Look at ways to decrease your EFC and help you eliminate financial aid mistakes.
You select colleges and we provide Financial Aid Eligibility information.
We provide two page informational guides for each of your selected colleges that provides key metrics and saves you a tremendous amount of time and frustration search college websites.
Some Strategies are time sensitive, longer you wait the lower the impact.
Is This Going To Be Complicated?
No. You should be able to complete the calculator  information in less than 15 minutes.
Our explanations are broken down into modules  using power point slides when providing rules, for example what are deductions from financial aid income? They are listed on a slide/s.
Please remember, the information we provide is  personalized  to your family's individual financial situation.
Obviously we never share your information with anyone.
Is the EFC Tune UP™ Affordable?
Absolutely. Let's look at an example  from another provider.
When I received  the email below I created the EFC coaching program so it would be affordable to everyone.
Here is part of an email a mother sent me that shows such a good reason.
This service provider definitely is not affordable to most people.
Part of an Email Received Showing Extreme Fees
"We did not try on our own to calculate our EFC but we did this online video with company called[name omitted for privacy] then we "won" a personal call consultation where the rep. showed us via laptop showing at least 2 scenarios of what our EFC would be going with our current financial numbers from 2012 tax returns and then what the EFC would be if we went with them (at a cost of $4200) to lower it with them saying they could lower our EFC by almost $10,000."

[Strategy Alert]: Would you spend $4,200 to get a return of $10,000? Sure you would as fast as you could. The problem is that even though you lower your EFC by $10,000 there is no guarantee that will translate into $10,000 of financial aid (remember "loans are usually part of the offer package) and most schools do not meet 100% of your financial need (EFC less total cost of attendance).
She made a great decision, you see, I'll give you the facts and never promise what a school might decide to award you. Our Financial Aid Appeal Letter Page receives thousands of visitors so we do many appeal letters, I never estimate what a financial aid office will decide. Jim Kuhner – Coach for College
Personalized Family EFC Financial Aid Reporting
Here are the steps for your EFC Tune-UP™.
1. When You Enroll, we'll email you and set up a  "get acquainted" phone call.
2. You will receive a link to our online EFC Calculator where you input some data, then securely upload the data into our financial aid software.
3. We'll review  your results, provide you a summary of your EFC calculation and provide any suggestions that might lower your EFC, providing you a before and after graph that itemizes the recommendations.
4. Based upon colleges that you select or we might recommend, we'll provide you Financial Aid Eligibility comparisons that show schools side-by-side, 5 per page up to 25 schools.
5. The Financial Aid Eligibility information can be used when you receive your financial aid award for appeal consideration – remember some schools send low-ball financial aid awards. If they report their need- meet as 85% of financial need and their award to your student is 40% then an appeal might be in order.
Some Common Questions
1. Am I limited to 25 schools? No, we are suggesting that number because in most situations that probably is enough.
2. Is the EFC Tune UP just for High School Seniors? No.
Current college families (except seniors) can benefit by determining if they can lower their EFC score and compare their school reported financial aid award percentage need  met with their current award for appeal consideration.
Sophomores and Junior families will benefit by learning how the process works  so as they prepare their school lists (safety-target-reach) they can begin sorting schools by generosity and be in position for understanding how the EFC process works. In addition student positioning will be explained and how to use each college's student profile.
3. How long do I have  to request the Financial Aid Eligibility reports for the selected colleges? There is no time limit we just ask that you are reasonable in making relevant requests that will be benefit you.
4. What does funding gap mean? It is the anticipated difference between the cost of attendance and the projected financial aid award, another name would  be  "out-of-pocket costs". This provides a meaningful way to compare college affordability in the selection process. Of course the final decision rests with the actual awards provided by the various schools in your application pool.
5.  Why is your fee so much less than many other college planners that charge larger up front fees? It's simple, I am basically offering you 6-8 hours as an introduction to my planning process, then we can see if moving forward it would be an advantage to you and your family for us to continue.
It's Up To You! Only $489
[One Time Fee]
Parent's Achieve  Financial Clarity™
You can start right now! Let's get control of The College Cost Tiger™.
30 Day Money Back Guarantee
For a complimentary discussion, please contact Jim Kuhner Email: [email protected] or call direct (817-600-0576).
JimKuhner