Coach-for-College SAVE™ – Solutions, Access, Value, Education
One to One Coaching- Get the Ans
wers You Deserve – Veritas for College™
"Best Practice" answers from a Trained College Planner who focuses on preparing for college.
Eliminate Costly Mistakes
Save Time, Reduce Debt – Old and New
Reduce Unnecessary Out-of-Pocket Expenses
Coach For College Can Be Your Solution!
"The Only Failure Is The Failure To Engage"!

What Is The Purpose Of Our Coaching?
In working together, we can accomplish these three core objectives;
Students Choose Right College™
Parents Achieve Financial Clarity™
Families Experience College Success™
Going to College is complex and there are many strategies to consider.
We focus on an efficient learning delivery system, a change in "mindset", a Veritas for College™ approach.
Knowledge
Process
Execution
High College Costs Makes It a Necessity to Graduate in 4 Years, Not 5 – 6 Years
Graduation rates in four years (24% source Huffington Post Infograph) are terrible because many times there are no career goals and no major selections prior to going to college, or there is a change (sometimes that can't be helped).
When the student "buys in" to a plan of action prior to attending college chances are much higher that graduation will result in a 4 year diploma.
Partial List of Planning Steps We Provide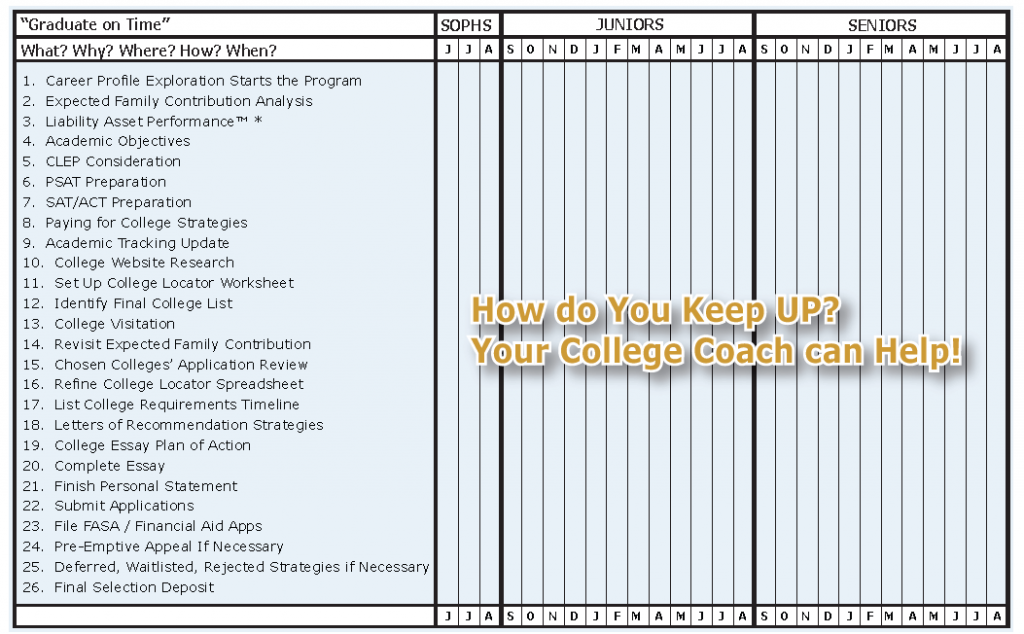 The above information represents some of the key "tasks" that should be addressed or dismissed when planning to go to college.
A systematic approach will save you much more money than our coaching fees, Guaranteed.
However, Coach for College not only addresses planning for college bound issues but we go way deeper in helping your overall financial situation so you can afford to go to college.
Here are some examples of concepts that can be covered based upon your family financial situation and objectives. Of course, not all will apply to you but many can and will be addressed when you join Coach for College.
Education Tax Relief Can Improve Your Cash Flow, Pay off Debt, Pay for College
HOPE – American Opportunity Tax Credit
Lifetime Learning Credit
Student Loan Interest Deduction
Tuition and Fee Deduction Strategies
What is a Qualified Expense?
Scholarships and Fellowships…When are they Taxable?
Coverdell Educational Savings Accounts ("CESA")
Qualified Tuition Plan
Student Loan Interested Deduction
Penalty Free IRA Withdrawals
Section 127 Tuition Assistance Plans
Section 105 Medical Reimbursement Plans
EE Bonds
Above The Line Education Deductions
Small Business Owner Strategies
Harvest Tax Losses
Tax Advantaged Income Generators
Trained College Planner Tips, Tricks, and Traps
Basic ways to increase financial aid and some "advanced" ways
Timing is everything, coaching helps you not miss deadlines
Which Colleges will give you the most money?
What is affordable for your family?
Personal debt is your enemy, software  Borrow Smart Repay Smart™ provides borrowing clarity
Spend student money now / auto, computer, etc.
Defer Grandparents' Gifts for education until Junior year or upon graduation
Saving money in student's name is a mistake
Delay Income if possible, Primary Driver of EFC Calculation
Avoid capital gains
Plan Early if Possible, Watch Retirement Plans!
Student Positioning for Merit Aid / Scholarships / Admissions
10+ Major Criteria for Marketing the Student for Admissions /Merit Aid / Tuition Discounts.
Academic Strategies During High School / Identify What Your Target List of Colleges are Looking For!
College Credit for "Discounted Dollars" – AP / IBC / What About CLEP? Match Your Schools
College Visitation Do You Have A Plan…What About Your "Memory Hook" Strategy?
Student Personality versus College Personality
Demonstrating  Interest when you visit schools.
What to ask – Questionnaires with Ranking Criteria
Minimum Visitation – Admissions, Financial Aid Office, Career Placement Office, Optional: Faculty, Athletic Department, Current Student/s
Ranking the Colleges or are you making a common mistake?
Saving For College If You Have Time?
529 Plans…Earnings "Can Be Taxable" – "Double Dipping"
Government Bonds
UGMA & UTMA
Coverdell ESA Plans
"Why and Why Not" Permanent Life Insurance,  Is it right for you?
Annuities, How They Work in the EFC Formula
IRA / Roth IRA
Tax Capacity / Income Shifting
Financial Projections And Reality, Data Input, Output Solutions
"Need Met" of Colleges – There's a basic misunderstanding, private schools can be more affordable than public!
Calculation of "Short Fall" – Don't wait until you get your "Damage Report", be Proactive, Get a Plan of Action.
Paying for the "Short Fall" – What to do before your College Bill arrives.
 Grant Money from Colleges/ Scholarship Search / Positioning…It's about some effort, millions go unclaimed each year.
Student Resources, this is not about money. Each student has a unique "offering" to the "right school".
Career Strategies…Why are you going to College? Let's have a reason, a plan, and motivation for success.
Jim Kuhner, College Planner, can be reached at 817-600-0576.
[email protected]
Jim Kuhner