Matching the Student with the "Right College Fit."
It is important to use "student positioning" as a valuable strategy as you plan for college.
Schools report the relative importance of 19 admission factors; these academic (6) and non-academic (13) factors provide the footprint for an effective student positioning strategy.
Factors that are quantifiable are referred to as hard factors (academic), all others are soft factors (non-academic).
Colleges differ in how they approach the importance of each of these factors in the admissions process. Some of these factors also relate to the amount of merit aid/scholarships a student might receive. It is important to understand how each school ranks these factors.
Factors rank in one of the follow four categories; very important, important, considered, and not considered.
You can see an example at the bottom of the page for Elon University. Also note, some are not considered at all so it is important to know what the school considers as the example for Elon illustrates.
For example, why show your level of interest if the school ranks interest as not considered?
19 Academic and Non-Academic Factors in Student Positioning Strategy
6 Academic Factors
Course Rigor Secondary School Record
Class Rank
Academic GPA
Standardized Tests Scores (ACT/SAT)
Application Essay
Recommendations
13 Non-Academic Factors
Interview
Extracurricular Activities
Talent/Ability
Character/Personal Qualities
First Generation
Alumni Relation/Legacy
Geographical Residence
State Residency
Religious Affiliations/Commitments
Racial/EStatus Status
Volunteer Work
Work Experience
Level of Applicant's Interest ("Demonstrated Interest")
How Can Effective Student Positioning Reward You?
Reduces High Cost of College
The cost of higher education continues to rise dramatically compared to other cost factors in the economy outpacing everything.
Graduation on time within four years is more important than ever.
According to act.org, only 36% of public school freshmen students will graduate in four years and 49% for private schools.
When you choose the right school from student positioning efforts, you will reduce the chances of being a transfer student which dramatically increases the cost of college.
Strategy Alert: Career assessment testing is an important college planning step and should be considered as you start implementing your student positioning strategies.
Stand-Out in School's Enrollment Management Process
Enrollment Management Principles utilized by Colleges sort freshmen applicants by hard and soft factors.
The application review process makes it imperative that the candidate understands what the school values for admission. and what the data is based upon percentages of accepted enrolled students for the most recent year available.
For example, measure the 50% percentile of accepted students for the SAT and/or ACT scores then evaluate where the student's scoring aligns when determining whether the school should be considered a safety school, target school, or reach school.
Improve Financial Aid Awards
The better the student ranks according to relative aid awards the better the chances the student will receive attractive financial aid offers.
We are talking about both needs-based financial aid and merit aid/scholarships /tuition discounts that do not have to be paid back resulting in College Free Money.
Increases Accuracy of  Your Safety, Target, Reach School List
Accurate student positioning improves the accuracy of your application schools and ultimately assists with selecting the right school fit.
Often families don't consider affordability when considering schools.
How a student compares to other incoming freshmen can help address this important issue.
Proper and accurate student positioning is an important part of the paying for college process.
Compare Student's Factors with College Freshman Profile
The next step in student positioning compares the student to College Freshman Profile of each college you are considering for the application.
Now that we understand the academic and non-academic factors let's look at an example using standardized test results for SAT.
Look at the middle 50% scoring range of SAT results for the school. For example, take the SAT.
You measure the student's scores with the school's 50% scores of recent incoming freshman. Then you can evaluate whether the school would be a safety school, target school, or reach school based upon this academic factor.
Although there are many other factors, simplistic conclusions based upon SAT score factor might be these.
If the SAT score is greater than the 50% range, then it would be a safety school.
If the score is in the middle of the 50% range, it would be a target school.
If the score is below the 50% range, it might be classified as a reach school depending on how much lower.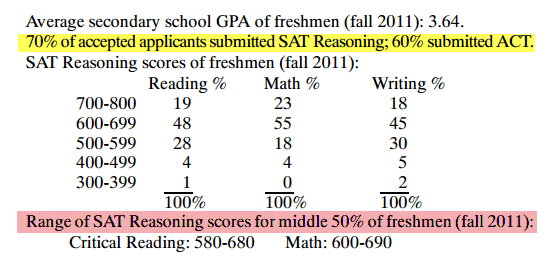 Build A Student College Freshman Profile for Each College
Each college you are considering examine the importance of the factors as shown below for each college and compare those to where the student measures up as far as strengthens / weaknesses.
Identify where the student aligns for the hard factors first for each college. The result helps identify schools as safety -target – reach schools as you sort you college down to  8 – 12  schools.
Strategy Alert: Our 5-step college selection software integrates many student positioning factors with your preferences as you build your college list. The software saves time, improves your decision making, and also provides merit aid/scholarship criteria for each school. As you make decisions and form opinions, the results become your online storage vault on your way to your final college choice.
Student Positioning integrates the academic, social, and financial aspects of going to college resulting in the best opportunity to choose the right college for the student.
Example: How a College Ranks Student Positioning Factors?
Look at the bottom of the chart under Nonacademic, the level of applicant's interest ("demonstrating interest") is listed as  "considered".
The strategic goals positions the students' strength's according to "very important" and "important" not discounting considered.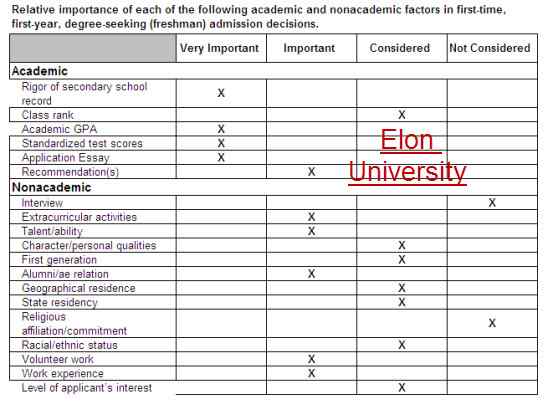 Jim Kuhner