There Are Two "Basic Ways" That You Can Plan for College
Understand going to college consists of many opportunity cost decisions.
Develop an actionable plan for your family that will minimize your your total costs / wealth transfers.
College is "big business", and as such should be treated like a business, Hire a College Coach.
Families Experience College Success™ – Understanding The Challenge Ahead
For most families paying for college will be the first or second largest possible expense they will face.
It certainly is the largest when considering the span of time in which the expenses occur.
"The Guaranteed  Graduation™" Coaching program is designed to tackle this challenge head on.

[Strategy Alert]: One of the biggest financial gains in the planning process is to make sure you get college selection right,  graduate in four years not 5, 6+ which unfortunately is quite prevalent today.
What is the True Cost of College? Much More Than Most People Realize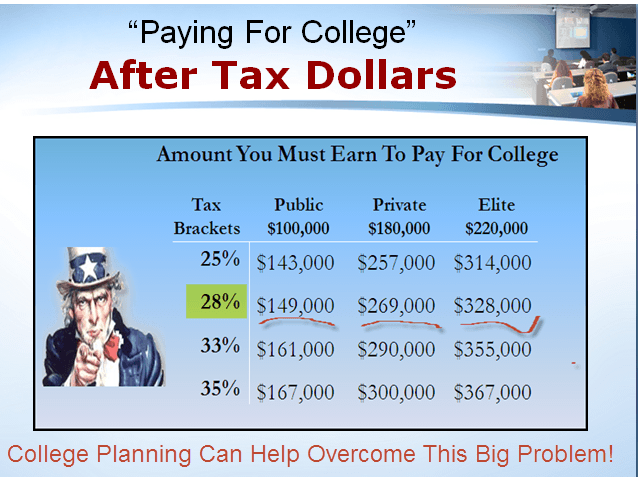 What makes college even more of a challenge?
College costs have to be paid with "after-tax" dollars.
Ask your self, is this something that you have thought about?
What do you do to deal with this challenge?
What result would you prefer?
As you can see, the true cost of college is staggering! And this does not even consider the lost "opportunity costs" for retirement, this is a problem that warrants your serious attention.
What do you want to do next? Consider what personal coaching / guidance can do for you with strategies that can provide you clarity in the college planning process.
Proper Student Positioning Helps Eliminate Low Graduation Rates and Costly Mistakes
As you move through the college bound experience, the value of  student positioning is oftentimes overlooked
Common Mistake: College Selection (starts with a career major quiz)   is  one of the biggest areas where students/families continue to make big mistakes. There are over 20 selection criteria when you consider colleges that you will apply toward. These criteria are the foundation for executing student positioning whereby the college wants the student because of the value the student can bring to the college community and perhaps help improve their college rankings. Geographic diversity when appropriate can be one these strategies.
College Family Financial Planning Centers Around Cash Flow
When you focus on cash flow strategies you not only reduce the amount of borrowing but improvements can help your family into the future as you build for retirement.
The best way to understand this opportunity is to break down strategies into categories. Here are a few.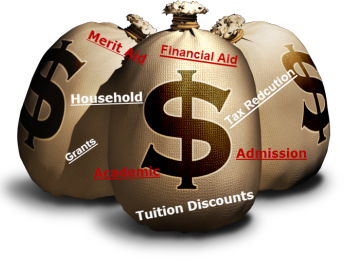 Household
Lower Your Expected Family Contribution ("EFC")
Financial Aid
Tax Reduction Related to Education
Academic
Admission
Award Letter – Comparing College Offers
Appeal Strategies
Family Wealth Transfers
Loan Programs
Community / Private Scholarships
Now you might be thinking, wait a second, what does this have to do with getting money for college with maybe the exception of "Federal Grants / Loan Programs"?
Everything. Improving family cash flow opportunities reduces the amount of potential borrowing.
How Can A College Planner Help You? Consultants Provide Money Saving Strategies
Here is a good example, and this is very common. Should you contribute money into your 401 (k) or self-employment retirement account in your base year?
Contributions to retirement accounts in the base year are added back into your Financial Aid Income.
"Wait, wait, I get a deduction from my taxes for my contribution". You are right.
However, when it comes to Financial Aid the story changes.
Should you stop contributions to your 401 (k)? It depends on your family's financial situation and an evaluation of various options.

[Strategy Alert]:If you are a high income family consider cash flow/liability management and income shifting strategies.
College Financial Planning Provides A High Return On Your Investment
The point is that there are multiple strategies within each category that you identify that might apply toward your individual family situation.
There are cash flow strategies and borrowing strategies.
Borrowing can be a great wealth builder when you learn about "EPR".
Are you considering loans? When you borrow you need a tool that can manage all your liabilities together in one place. Measuring your Effective Percentage Rate (net after tax cost) for each loan allows you wisely evaluate how to pay down debt.
The big mistake families make  is only looking at a few strategies rather than going after many. Some will be successful some not successful. However, when you have many "engaged" your return can add up faster than just simple arithmetic using only two or three strategies.
For example, let's just take a look at a few of the categories above and I'll give you a quick rundown of the number of basic strategies that apply.
Financial Aid 8 Strategies
Tax Relief 9 Educational Strategies
Academic 5 Basic Strategies
Admissions 9 Strategies – Standing out for Admissions
Award Letter 9 Strategies
Appeal Award Letter 7 Strategies
When You Reduce Costs, You Also Find Money for College
When I speak of finding money strategies, they can either be reducing costs, restructuring the location of the money, or a combination of both.
The idea is to eliminate wealth transfers which simply means, capturing money either from other people's money or your money so paying for college now becomes more affordable.
Remember, without persistence and determination to tackle the high costs of going to College, you become subject to the trap many families continue to be caught in.
And it starts with learning about the complexities of planning for college and designing a plan of action for your individualized family situation, our coaching program can help you.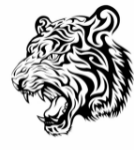 Tame the College Cost Tiger™. CLICK On Tiger for  "The Starter Coaching" Process
Jim Kuhner